Overwatch Skill Rating Boost
We operate on all platforms
PC
PS4/PS5
XBOX
How come I can only select 50 skill rating at a time?
That's just the way we price it, because we don't sell per SR. Don't worry, if you buy to a certain SR, your order will only be complete after we achieve the same target or higher than what you asked for.
Can I talk to my friends while you play?
Definitely. You can either choose to relay messages to and fro your booster from your order page, or you can login to your BattleNet client (do not launch the game) after your booster has gotten into the game.
How long will my order take to complete?
It depends on what kind of order you make. For any solo orders, we display an estimated time for your order completion before you purchase. If you want us to start ASAP on your order, you can make your purchase with the "Priority Completion" add-on and we will push your order to the top of the queue.
"Professional and fast. Will absolutely be requesting Norman for any future needs. "





Anonymous
PC
SR Boost from 3356 to 3700





Anonymous
PC
SR Boost from 3113 to 3500





Anonymous
PC
SR Boost from 3871 to 4050
"Booster was friendly and quick. Fourth time using boosting hero. Highly recommend!"





Anonymous
PC
SR Boost from 2615 to 3050





Anonymous
PC
SR Boost from 1379 to 2200
"Super quick and friendly very dedicated to helping out and making sure the customer is happy! Highly recommend EstreetLonger. Amazing booster."





Anonymous
XBOX
SR Boost from 3125 to 3550
"Very professional system and incredible and supportive boosters who helped me smoothly, efficiently and without any problems!"





Anonymous
PS4/PS5
Duo SR Boost from 2530 to 3000
"Fast service but didn't use the heroes I appointed. :( Thanks, Helper. "





影
PC
SR Boost from 3124 to 3200
"This website always comes through when I need it most. Booster was nice & got through my order quick. Will be ordering again sometime. "





Anonymous
PC
SR Boost from 2017 to 2600





Anonymous
PC
SR Boost from 3521 to 3600





Anonymous
PC
SR Boost from 3864 to 4000
"Syrax was my booster. They were very nice. Second time ordering from here and it's still just as good as two years ago. Definitely recommend. "





Anonymous
PC
SR Boost from 1686 to 2000





Anonymous
PC
SR Boost from 3594 to 3850
"Kapey is an amazing player! Fast, friendly, and positive. Very fun to play with. Won every single game."





Akali
PC
Duo SR Boost from 1120 to 1500





Anonymous
PC
SR Boost from 2850 to 3050





Anonymous
PS4/PS5
SR Boost from 3297 to 3500
"Highly recommend Retouch, good communication "





Anonymous
PC
SR Boost from 3638 to 3800
"Syrax = S tier Amazing services."





Anonymous
PC
Duo SR Boost from 1500 to 2050
"The very first booster that I got paired with, and I won't go with anyone else. Syrax is amazing! He is always quick to respond and quick to finish the job. Never loses and is very talented."





Anonymous
PC
SR Boost from 1414 to 1900
"Speedy and great communication"





Anonymous
PC
SR Boost from 1300 to 1600
What is Overwatch boosting and how does Skill Rating boost work?
Are you tired of meeting nothing but trolls and toxic players while trying to climb the ranked ladder yourself? We know how you feel. Even our boosters experience that on their main accounts. Players refusing to play anything except DPS, players giving up after losing the first point on a map. This is a common problem that every ranked bracket faces. This is also why we decided to provide Overwatch boosting services.
We want to help you by taking out all the stress and frustration out of the game and giving you a little push toward your goal SR. Our SR boosting service works two ways. One, we play on your account until we get you to your desired rank, or two, we group up with you and play together with you until you get to your desired rank (click here to go to our duo boosting page). It's that simple.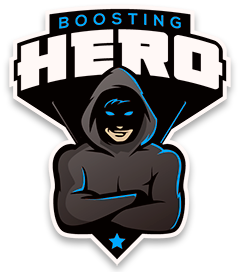 About our Overwatch Skill Rating boost service
We guarantee we will get you to your desired skill rating. Either by playing on your account or together with you in a group (click here to go to our duo boosting page). If we fail to achieve this, we will send you a refund no questions asked. We also offer various add-ons to go with any SR boost order, and we suggest you purchase with these to maximize the value on your boost. For example, hero preferences and streaming. If you purchase with these add-ons our boosters will play only the heroes you tell them to play and set up a private live stream for you to watch while your account is being worked on. We do our best to make sure all our customers who purchase our Overwatch boosting services are satisfied, as you can see from the reviews on our site.
What happens after I make my Overwatch boosting order?
As soon as your payment goes through, you will be redirected back to our site and onto your very own order page. Over here, you can give us all the details we need in order to start working on your order.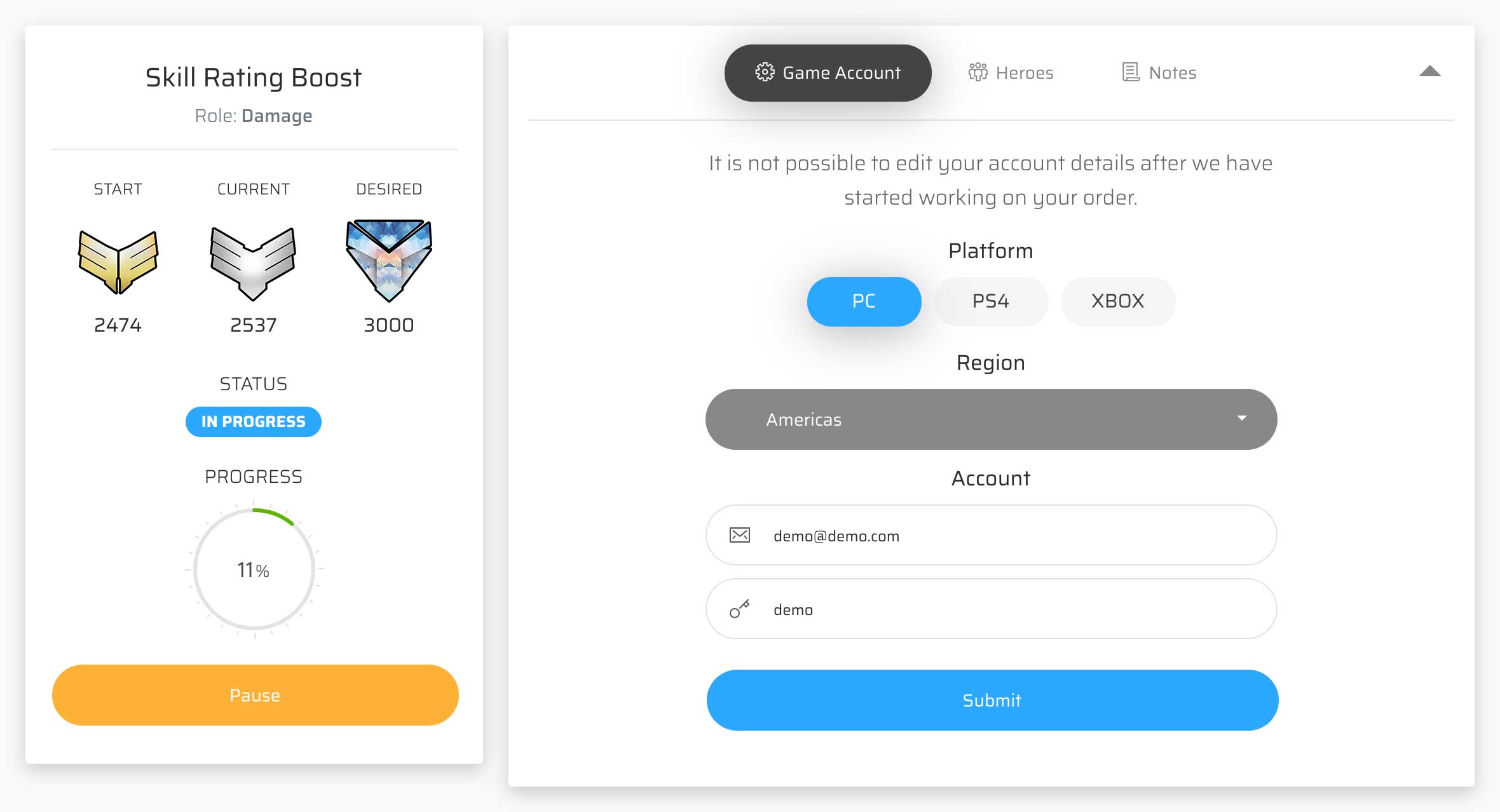 On this page, you will have access to our full range of features which includes your hero preference tab, a notes section, and order chat which you can use to communicate with your booster. Your order's progress will also be updated here in real-time for you to monitor.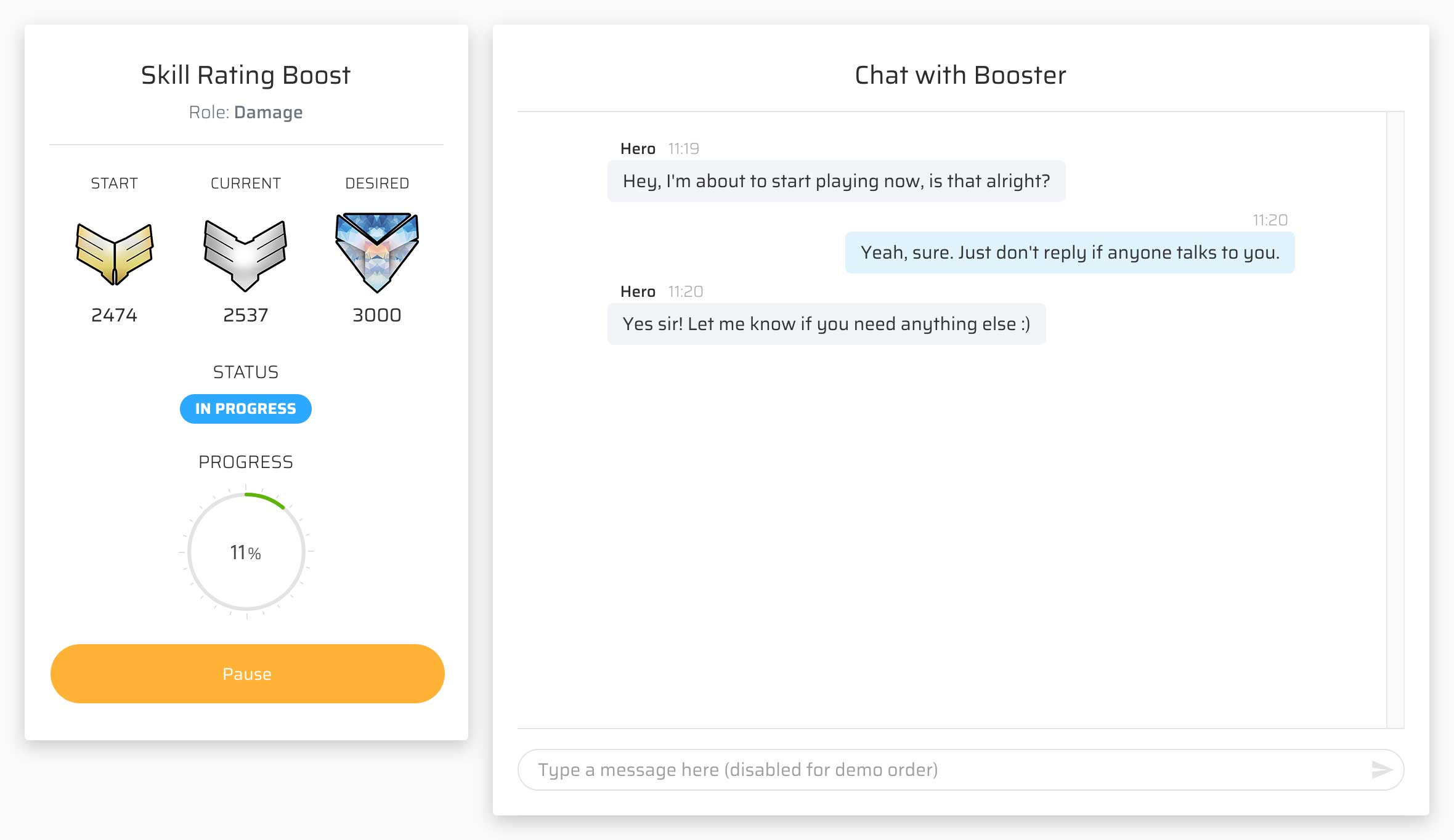 Why Boosting Hero?
We've made it our life mission to serve the needs of the trolled, frustrated, and tired Overwatch players, and those who simply do not have the time to achieve the rewards they want. We talk to our customers so we understand your needs and grievances.
Not only that, but all our Heroes are well trained, professional and make it a huge point to prioritize your satisfaction, privacy, and account safety. We're experienced boosters and we know exactly what our customers want and are concerned about.
And not forgetting, of course, because the world could always use more heroes!