Overwatch Games Boost
We operate on all platforms
PC
PS4/PS5
XBOX
How much SR would I gain per game?
It's really hard to say since there are so many factors in play that affect every account's SR gain. Such as individual performance and the fairness of the match. If you want a guaranteed way to gain SR, you should look at our SR boost service instead.
Is there a win rate guarantee for solo/duo games?
We do not offer a win rate guarantee for our solo/duo games service, which is why we price it more affordably. You can take a look at our quick stats to have a rough estimate on our win rate. If you're still skeptical, feel free to buy just 1 or 2 games as a test first.
How long will my order take to complete?
It depends on what kind of order you make. For any solo orders, we display an estimated time for your order completion before you purchase. If you want us to start ASAP on your order, you can make your purchase with the "Priority Completion" add-on and we will push your order to the top of the queue.
"Norman is just insanely good. Will definitely come back thanks to this booster!"





Anonymous





bibi
"second time ordering and it was just as good as last time"





anon
"very fast, super communicative "





Anonymous





ponguin.
"Booster did great only downs side is wait time to find a booster "





Anonymous
PC
1 Duo Queue Game Boost





Spooks
"Fast and prompt service"





Destinyplayer
PS4/PS5
13 Solo Games Boost





jayden
"Scricy 10/10 booster really fast responses to any queries and won the majority of the games easily"





Anonymous
"Verry fast boost, insane!"





Anonymous





firenoodles
"Really fast, really good work and really nice booster to Chat with. Get him he wont let you down"





Anonymous
"Orders completed quickly and boosters were great at the game."





Anonymous
PC
3 Duo Queue Games Boost
"Fast and easy games, 15 / 15 won"





Anonymous
PC
15 Duo Queue Games Boost
"10/10 - awesome boosters"





Anonymous
PC
10 Duo Queue Games Boost
"fast response, awesome service, fun games, easy sr"





Anonymous
PC
10 Duo Queue Games Boost





Anonymous
PC
20 Duo Queue Games Boost
"9 out of 10 games won. GG "





Anonymous
PC
10 Duo Queue Games Boost
"Helper was absolutely insane and rolled through the games with ease. I enjoyed watching Helper's gameplay and and had so much confidence in this person that mid-way through one of my orders I placed another order and requested Helper as my booster for that one too - again the order was completed..."
Read full review





Anonymous
What is Overwatch boosting and how does Solo/Duo Games boosting work?
Here at Boosting Hero, we understand how tough and frustrating it can feel to be stuck at a certain rank, playing every match with the same trolls and leavers. Based on our experience, we can tell you that ELO HELL IS REAL, and we want to help you get out of it.
This is why we launched our Overwatch boosting services. We understand your pain and we want to help give you a helping hand with getting out of the hellhole you're stuck in and into a bracket where you can enjoy some real games.
Our Solo/Duo Games boost service allows for just that while offering you the control over the number of games you want us to play with you or on your account. This particular service of ours is very flexible and you can use it for anti-decay or just to bang out a couple of duo games during your spare time. It's up to you!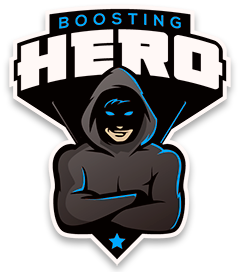 About our Overwatch Solo/Duo Games boost service
This works two ways. You can either opt for us to play on your account (solo/piloted) or we can play together with you in a group for your games (duo). Either way, we're confident to deliver a good win rate, so you don't have to worry if you're wanting to use this service to get some easy SR. At the same time, if you're just wanting to avoid decay for a couple of days before you come back from your vacation, this is also a great option for you. If you're still unsure, you can take a look at our reviews on this page as we only show reviews written for our Solo/Duo Games boost service here.
What happens after I make my Overwatch boosting order?
After making your payment you will be sent back here to your own order page where you can fill out all the information we need in order to start on your order. Do note that for the duo games option we do not need your login info. Just your region, platform and BattleTag.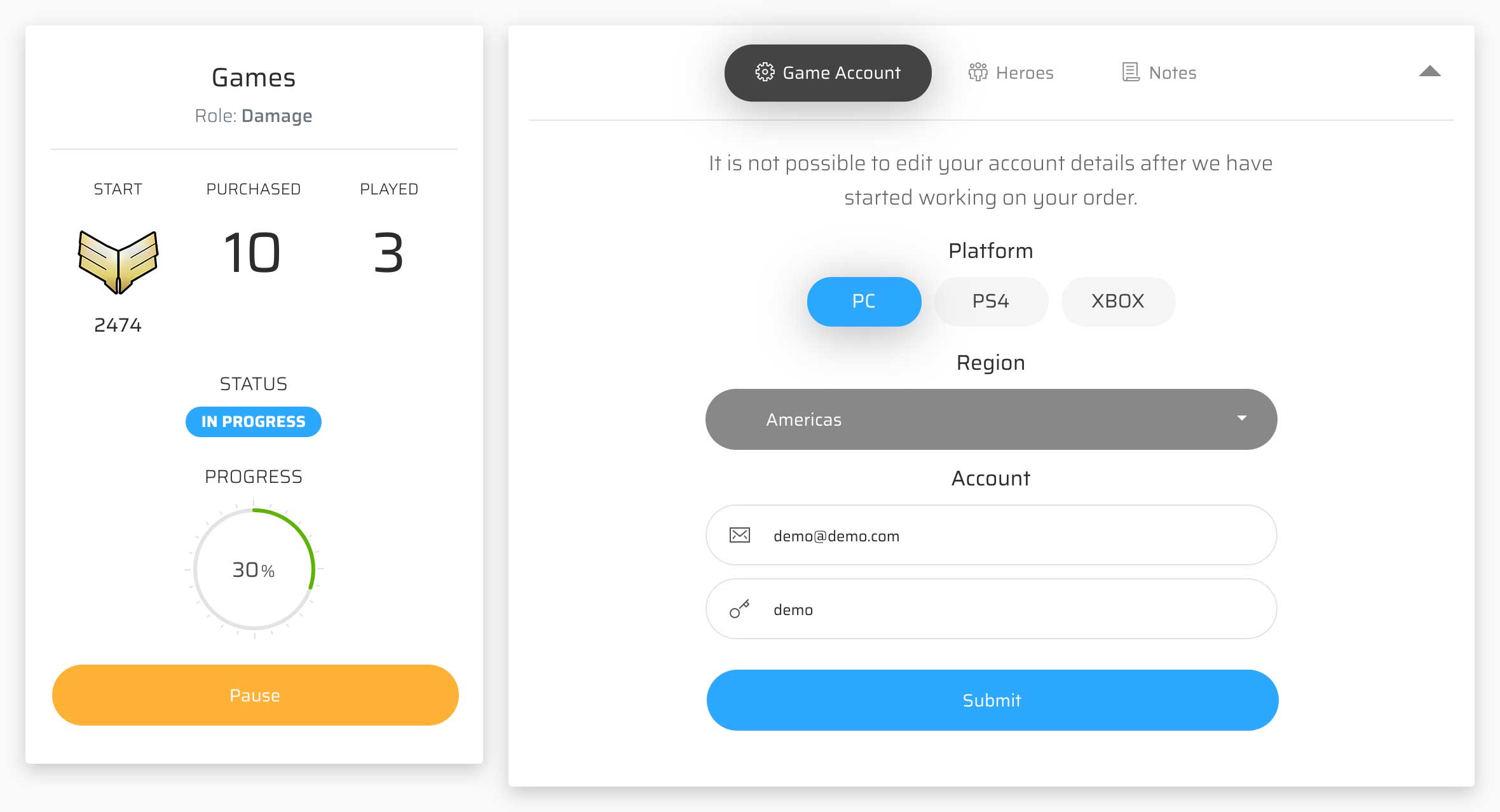 When we have received your info we will start on your order as soon as possible. We can even start within minutes depending on our current workload.
You can monitor and track all of your order's progress from this page. Also available to you on your order page are a bunch of cool features like a chatbox you can use to communicate with your booster, and also adjust your order preferences like the heroes you would prefer for us to play or if you opted for the duo option, your available play schedule.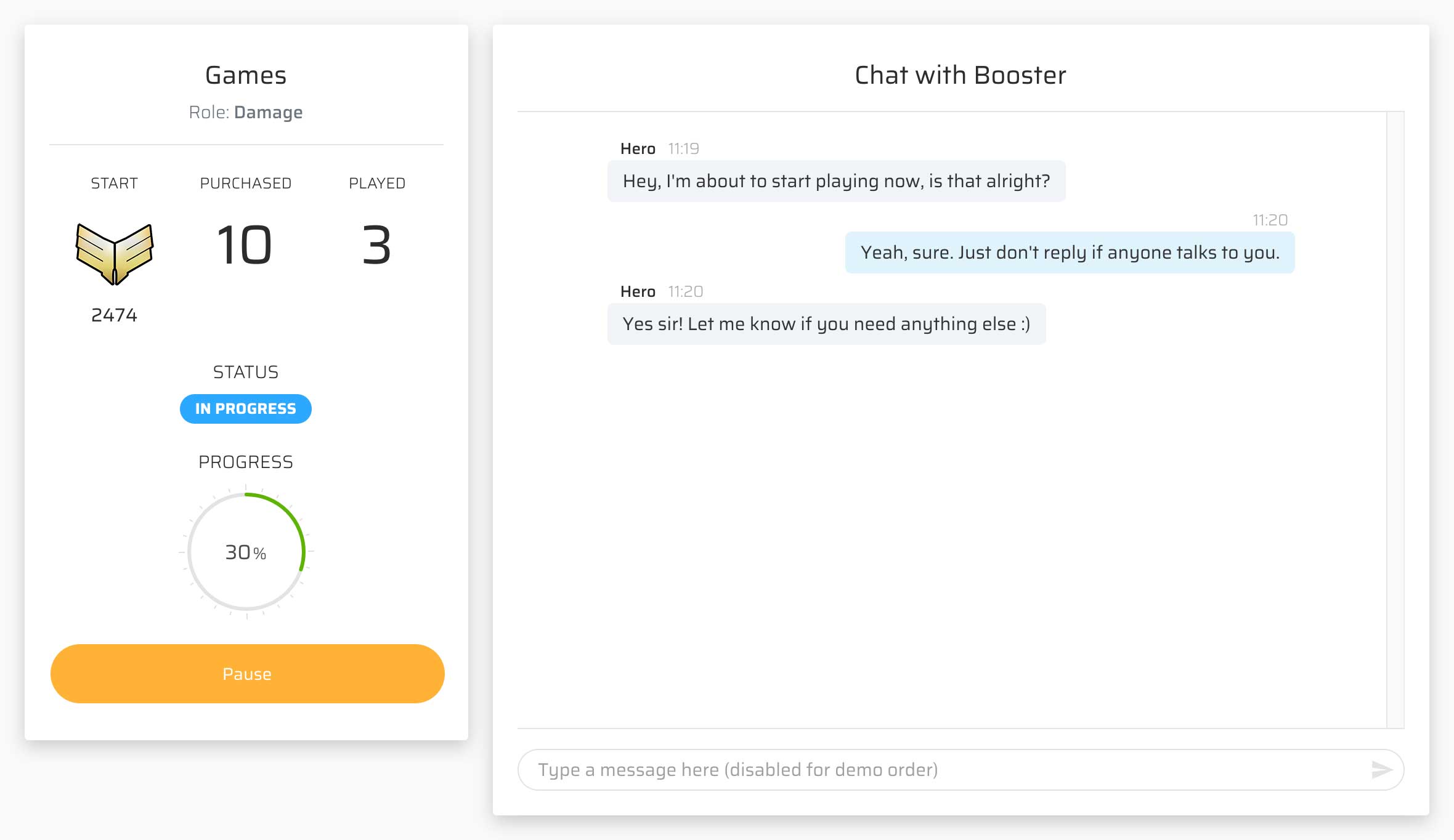 Why Boosting Hero?
We've made it our life mission to serve the needs of the trolled, frustrated, and tired Overwatch players, and those who simply do not have the time to achieve the rewards they want. We talk to our customers so we understand your needs and grievances.
Not only that, but all our Heroes are well trained, professional and make it a huge point to prioritize your satisfaction, privacy, and account safety. We're experienced boosters and we know exactly what our customers want and are concerned about.
And not forgetting, of course, because the world could always use more heroes!